Amanda Holden (Amanda Louise Holden) is an English born actress who aside from acting is also recognized as a TV presenter, radio personality, writer, talent competition judge, and singer. From an early age, Louise always had a flair for acting and she held nothing back in showcasing her skills. While in secondary school, her talent was appreciated in several stageplays she performed in and after she left secondary school, Amanda polished her skills the more at Mountview Academy of Theatre Arts. Her first appearance on television was in 1991 as a contestant on Blind Date and afterward, the then-budding English actress landed other roles in films and television series which has seen us compile this list of the best and worst Amanda Holden movies and TV shows.
Ranking Amanda Holden Movies And TV Shows From Best To Worst
Hearts and Bones (2000–2001)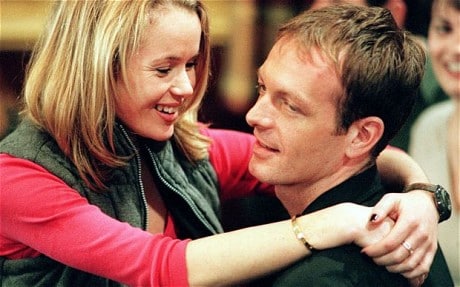 Top of the list in this compilation of best to worst Amanda Holden movies is this seven-part television drama series which examined the lives, relationship, and careers of a group of friends from Conventry who relocated to London. The main casts of the TV series are Damian Lewis (as Mark Rose), Andrew Scarborough (as Michael Owen), Dervla Kirwan (as Emma Rose), Hugo Speer (as Richard Rose), Amanda Holden (as Louise Slaney), Rose Keegan (as Sinead Creagh) and Sarah Parish (as Amanda Thomas).
The series told the story of Emma Rose who married Mark Rose with whom she had a son named Sam. Emma, however, had affection towards Mark's brother, Richard Rose and wouldn't mind having a dalliance with him despite knowing he has a girlfriend (Louise Slaney). Mark, on the other hand, has Sinead besotted with him. A series of events that happened in the course of the series saw Emma and Richard have an affair after which Richard ceased to speak with Emma. The group of friends gets estranged and only a reconciliation could bring them together.
With an IMDb rating of 8.0/10 and favorable rating on several other movies and TV show review websites, Hearts and Bones stands out as a hard to miss mention on any list of the best Amanda Holden Movies and TV shows.
The Grimleys (1999–2001)
In The Grimleys, Amanda Holden acted as Geraldine Titley and was cast alongside Nigel Planer as Baz Grimley, James Bradshaw as Gordon Grimley, Samantha Janus as Geraldine Titley, Ryan Cartwright as Darren Grimley, Jan Ravens as Janet Grimley, among others. The comedy-drama series was set in the mid-1970s in Dudley, West Midlands, England. The film centered on the Grimley family and saw Gordon Grimley, a student,  having a crush on his teacher Miss Geraldine Titley. Geraldine on her own part is in love with another teacher in the school named Doug Digby played by Jack Dee. How Gordon goes about winning over his love interest brought a lot of humor in the series.
The TV series which ran from 1999 to 2001 has a rating of 7.6/10 on IMDb and 6.1 on tv.com. It is easy to understand why this is considered one of the best Amanda Holden projects among her movies and TV shows.
Wild at Heart (2006)
Wild at Heart is a creation of Ashley Pharoah which brought together stars like Stephen Tompkinson (as Danny Trevanion), Amanda Holden (as Sarah Trevanion), Luke Ward-Wilkinson (as Evan Adams), Rafaella Hutchinson (as Olivia Adams), Lucy-Jo Hudson (as Rosie Trevanion), Deon Stewardson (as Anders Du Plessis), Nomsa Xaba (as Nomsa Nguni) and others.
The ITV television drama series, which began airing from 2006 and ran till 2012, tells the story of Danny Trevanion a Bristol-based veterinarian and his family who traveled to South Africa with the intent of releasing a wild animal back to the wild. He, however, falls in love with South Africa and its wild animals and this prompted his decision to stay back in the country. He then bought into a partnership with Anders Du Plessis, a game reserve owner and set up a veterinary surgery and animal hospital in the game reserve in addition to rehabilitating the facility. The show goes on to depict their struggles and triumphs in running the park. Wild at Heart has a rating of 7.3/10 on IMDb and 8.7 on tv.com.
Cutting It (2006)
Cutting It is another worthy mention on this list of Amanda Holden movies and TV shows you should watch. It is a BBC television drama series that focused on the lives and relationships of a team running a hairdressing salon. As its main cast, the series showcased Sarah Parish as Allie Henshall, Jason Merrells as Gavin Ferraday, Sian Reeves as Sydney 'Syd' Henshall, Angela Griffin as Darcy Henshall, Annette Badland as Brawdie Henshall, Bill Thomas as Tom Henshall, Ben Daniels as Finn Bevan, and Amanda Holden as Mia Bevan and others.
On IMDb, Cutting It was rated 7.2/10 and 7.4 on tv.com. It also had a German remake entitled Bis in die Spitzen but the later wasn't as successful as the former with its Dutch audience.
Kiss Me Kate (1999–2003)
Kiss Me Kate is a British situation comedy that featured Amanda Holden as Mel. Other cast members include Caroline Quentin as Kate Salinger, Chris Langham as Douglas Fielding/Cameron, Darren Boyd as Craig Chapman and a couple of other recurring characters. The sitcom which ran from 1998 till 2000 tells the story of Caroline Quentin, a counselor who counsels her neighbor and business partner, Douglas Fielding, who is unsuccessful in his endeavors.
While the series aired, it attracted a decent following from fans who loved the nature of characters in the show and the actors and actresses playing them. Kiss Me Kate was rated 6.9 on tv.com while on IMDb, it was rated 6.7/10.
Intimate Relations (1996)
Next up on our list of Amanda Holden movies is Intimate Relations. Amanda Holden played the character of Pamela in Intimate Relations, a 1996 Canadian-British film written and directed by Philip Goodhew. The film boasted of acting stars such as Julie Walters, Rupert Graves, Matthew Walker, Laura Sadler, and many others.
The film started with Harold lodging with the Beasley family and soon finds Mrs. Marjorie Beasley desiring to have an affair with him. The duo hit off but it wasn't long before Mrs. Beasley's daughter finds out what is going on between her mother and Harold. She threatens to tell her father unless she is allowed to have a piece of the cake. Initially, her mother was okay with the idea but it wasn't long before issues started coming up between them. When Harold tries to leave, Mrs. Beasley threatens to report him to the police that he has been abusing her daughter.
Seeing that Amanda has acted in more TV series than films, she was quite a delight to watch in the short role she played in the film. Intimate Relations was rated 6.3/10 on IMDb.
Big Top (2009)
Big Top is one of the lowly rated shows you will find in any list of the worst Amanda Holden movies and TV shows. The show was centered around a traveling circus which Amanda acted as its Ring Mistress named Lizzie. Other main casts of the show are John Thomson as Plonky the Clown/Uncle Geoff, Tony Robinson as Erasmus, Ruth Madoc as Georgie, Bruce Mackinnon as Boyco and Sophie Thompson as Plinky the Clown/Auntie Helen.
The BBC television sitcom which only aired between November and December 2009 centered around Lizzie struggling to overcome every problem thrown at her as she works in the production of shows for her circus group. The television series was met with terrible reviews after its opening episode with British author and political satirical journalist – Michael Deacon describing the show as "unfunny and outdated" as reported by The Daily Telegraph. It was similarly named the worst new sitcom of 2009 by British Comedy Guide visitors. On IMDb, Big Top was rated 3.4/10.
Mad About Alice (2004)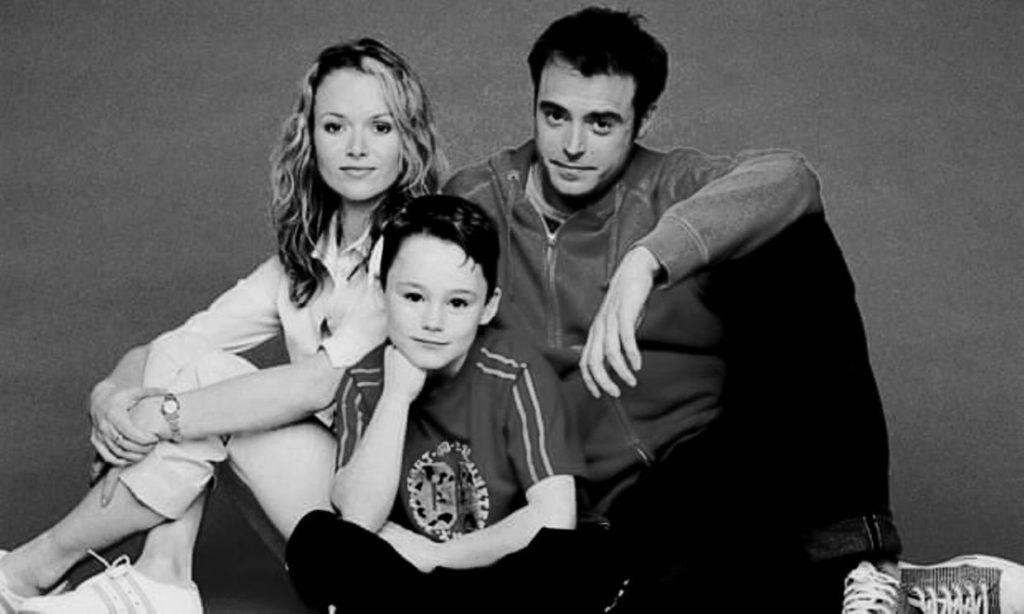 Mad About Alice tells the story of Jamie Theakston and Amanda Holden who played the characters of Alice and Doug; a divorced couple who have a son named Joe (played by Billy Hill). The couple despite their divorce still remain in close contact with each other for the sake of raising their son. As the story develops, there were still visible signs of attraction between the two albeit they have arguments every now and then. All the while, their nine-year-old son Joe is totally oblivious of what is going on between his parents.
Despite the seemingly interesting story this TV series tried to tell, the casts failed at playing their roles and giving life to the characters the way they deserved. Ultimately, in just its first season after 6 episodes, Mad About Alice was discontinued. On tv.com, it was rated 4.7 while on IMDb it couldn't have fared better than 3.4/10. No doubt, this is one of the worst on entries you will find on any compilation of the worst Amanda Holden movies and television shows.