Allie Laforce (born December 11, 1988) is an American journalist, model, and winner of a beauty pageant, best known as the wife of baseball pitcher Joe Smith. Allie Laforce boasts an estimated net worth of $3 million.  
LaForce might be known to many as the wife of the famous Major League Baseball relief pitcher, Joe Smith, but she has been popular for about a decade before she got married to Smith. The American journalist and model rose to fame through her career in pageantry which saw her become Miss Ohio Teen USA and Miss Teen USA. After she had made a name as a model, Allie switched to sportscasting and this has seen her work with several notable media establishments. She currently works as a sideline reporter for the NCAA tournament and NBA on TNT.
Biography and Profile Summary of Allie Laforce
Full Name: Alexandra Leigh LaForce
Nationality: American
Place of Birth: Vermilion, Ohio, U.S.
Date of Birth: December 11, 1988
Age: 34 Years Old
Education: Ohio University
Occupation: Journalist, Model, and Beauty Pageant Titleholder
Father: Wade LaForce
Mother: Lesa LaForce (née Rummell)
Husband: Joe Smith (2015 – Present)
Net Worth: $3 Million
The Sportscaster Was Born Into a Sporting Family In Vermilion, Ohio
The sideline reporter is a native of Vermilion, Ohio. Records have it that she was born on the 11th of December 1988 to Wade LaForce and his wife Lesa. For those who know a thing or two about the family she hails from, it is not a surprise that Allie embraced a career in sportscasting.
She hails from a sporting family; her parents were both college athletes. While her mother played tennis at Kent State, one of Ohio's leading public universities, her father played football at Wittenberg University. More so, she was raised around an aunt who worked as a varsity basketball coach.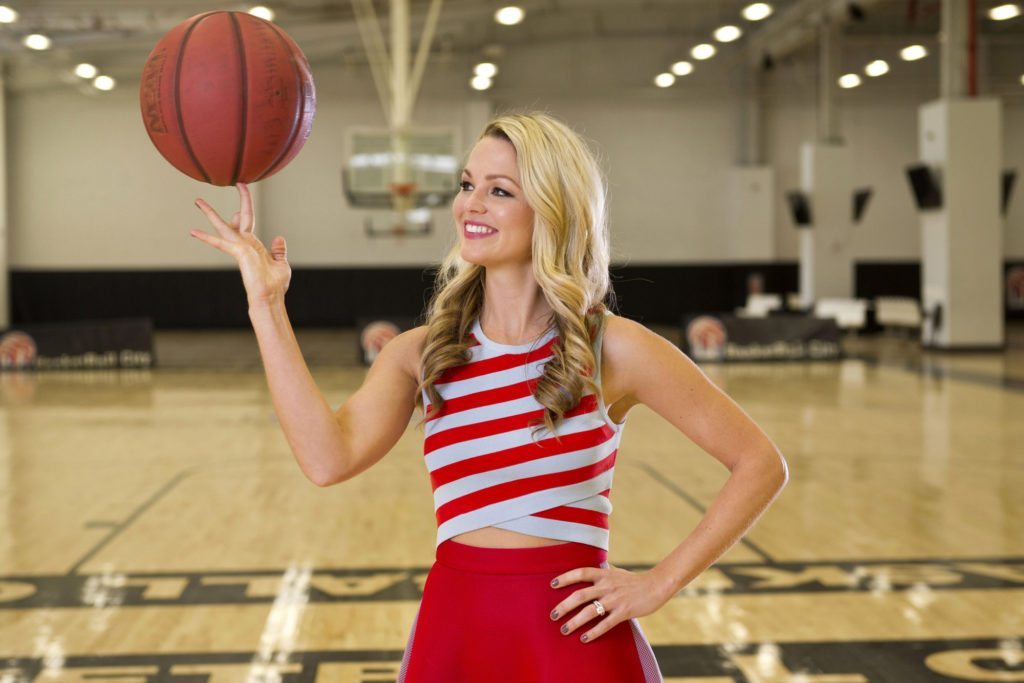 According to several sources, Allie LaForce is the only child of her parents. But it seems she has a sister named AuBree LaForce. And although details of her ethnic background are yet to be revealed, anyone whit half an eye could tell that she's caucasian. With the influence of her parents and aunt, the sportscaster took interest in playing basketball. She played for the women's team of Vermilion High School and also lettered in softball and track.
With the intent to become a professional player, she continued playing basketball when she graduated from high school and moved on to Ohio University to further her education. She played eight games for the Bobcats' women's basketball team as a guard during her freshman season and pulled off five points and five rebounds. Unfortunately, the attainments of her college career as a basketball player weren't enough to warrant the pursuit of a professional career in the sport.
From the university, Allie bagged a degree in Broadcast Journalism, Journalism, and Women's Studies; this was in 2011. Before she left college, LaForce had already bagged some experience in sportscasting as she worked as a color commentator for Southern Ohio Copperheads and a field reporter with Nike.
Allie LaForce Started Building Her $3 Million Net Worth When She Became Famous From Beauty Pageants In 2004
It is believed that the sportscaster is worth at least $3 million at the moment. While we don't have the facts to confirm or refute this claim; no one should doubt she is worth that much as she has been making good money since she was a teenager. Before she went to college in 2007, Allie LaForce was already popular as she participated in beauty contests which she won and was consequently introduced to the world of modeling.
Sometime in September 2004, she won the Miss Ohio Teen USA 2005 title which saw her represent the state in the Miss Teen USA 2005 pageant. She also won the competition held in Baton Rouge, Louisiana. Among other things, it earned her a modeling contract with Trump Modeling Management. So, it wouldn't be wrong for one to assert that her cash prizes from the beauty contest and earnings from modeling were the earliest source of her wealth.
Her Journalism Career Is Her Biggest Source of Income Right Now
LaForce's major source of income at the moment is what she earns from being a sportscaster. Since August 2013, she has been working as a college basketball and football reporter for the SEC on CBS. She also works for Turner Sports as a sideline reporter for its coverage of NBA games and the NCAA Tournament.
This is not where her sports journalism career began as she had worked with Fox8 Cleveland for two years starting from May 2011. From 2010 to 2012, she worked as a sideline reporter for Sports Time Ohio and in the same capacity for Fox College Sports from 2010 to 2011. Below is a list of the media houses she has worked with over the years.
CBS
TNT
Fox8 Cleveland
Sports Time Ohio
Fox College Sports
While what she earns as a sportscaster is best known to her, there is no doubt it has been financially rewarding and a successful endeavor. Allie LaForce co-hosts We Need to Talk which is widely regarded as the first all-female national sports show. When she worked with Fox8, she served as a host for the Emmy Award-winning high school football show, Friday Night Touchdown. So it wouldn't be out of place to assert that her career has been lucrative as much as it is fulfilling.
The Journalist Has Been Married To Joe Smith Since 2015 But They Are Yet To Have Kids
Allie LaForce's husband is an American professional baseball player and as of this writing, he plays for the Seattle Mariners of MLB. The Cincinnati, Ohio native has also played for many other teams throughout his career, including the Houston Astros, Cleveland Indians, Toronto Blue Jays, Chicago Cubs, Angeles Angels, Cleveland Indians, and New York Mets.
LaForce and Smith got married in 2015 but their relationship started a few years earlier. Although it is hard to tell exactly when they started dating, reports have it that they met sometime in 2011 while LaForce was working in Cleveland with Fox8. At that time, Smith was playing for the Cleveland Indians. By 2013, the two were engaged and in January 2015, they officially became life partners. Their wedding took place at the University Circle United Methodist Church in Cleveland, Ohio.
The couple has been married for over half a decade but their union is yet to produce any child. Joe Smith's mother was diagnosed with Huntington's disease in 2015 and there is a 50% chance of the baseball player inheriting the condition. This, as claimed in some quarters, is part of the reasons the couple is yet to have kids. Joe once reportedly stated that he would ensure he didn't inherit the disease before having kids.
You can keep up with Allie LaForce's career and personal life through her social media pages listed below.