The spread of globalization has contributed to rising migratory patterns of humans, which in turn has created novel concepts when it comes to global racial relations. Racial ambiguity is one of these concepts that is steadily on the rise, and the actress Alisha Boe is one of the many people who can be described as racially ambiguous; this is because her looks do not convey what part of the world she is really from.
Boe's ethnicity is just one interesting aspect of her life, she is mostly known for the work she did on the hit television series, 13 Reasons Why. Here we demystify the actress' ethnicity and discuss her acting career before and after 13 Reasons Why.
Where Is Alisha Boe From?
Alisha Boe was born on the 6th of March, 1997. Her birth took place in the capital city of Norway, Oslo. Boe's father is Somalian while her mother is of Norwegian descent, the actress' mixed ethnicity can be deduced from her full name which is Alisha Ilhaan Bø. Sometime in her childhood, her parents split up and when she was seven she moved to America with her mother, this move was made because of her mother's marriage to an American man.
The move to America was a defining factor in Alisha's life as it was around this time that she decided to stop identifying as Norwegian; the actress has admitted that this was childish of her and it is one of the things she regrets the most. But as an adult it is not something she shies away from or tries to hide anymore, Boe is quick to declare that she is a Norwegian-Somalian who grew up in Norway and America.
Alisha Boe At A Glance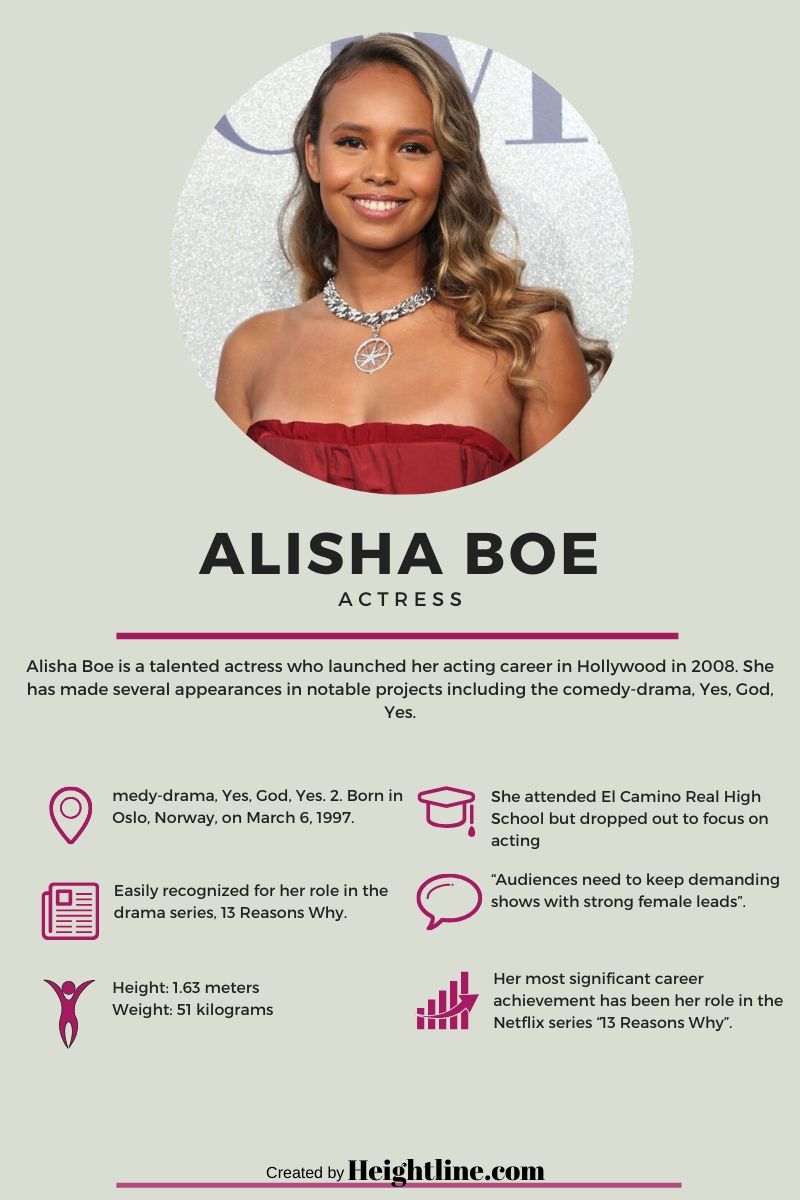 Boe's Career Before 13 Reasons Why
Alisha Boe's decision to become an actress was one she made as a teenager. She had always wanted to go into show business, as a performer and her first stint in performance was as a dancer. However, she decided to make the switch to acting and with this change she was able to sign up for the drama program in El Camino Real High school, where she dropped out of when her acting career began to get serious.
Her first debut in professional acting was in the 2008 horror film, Amusement; Boe played the younger version of the character Lisa Swan alongside Jessica Lucas and Katheryn Winnick. She did not get another role until the following year when she got to play Laci in the 2009 film He's On My Mind. Afterward, more acting jobs started to roll in and by 2012 she had her debut in television with a very small role on Parenthood.
In 2017, Alisha Boe began playing the character of Jessica Davis in the hit Netflix series 13 Reasons Why. The roles that Alisha Boe was getting in films and television shows prior to her appearance on 13 Reasons Why were mostly small roles but they were all prepping her to become the big star she is today.
What She's Been Doing After 13 Reasons Why
The actress, in an interview, once spoke on how difficult it was for her to get roles in movies and television shows, mostly because of her ethnicity. Thankfully, 13 Reasons Why was made in an era of inclusion where Hollywood was doing their best in terms of putting actors on screens who had otherwise been looked over in the past; Alisha Boe is one of such people. The role of Jessica Davis was one that launched her into the limelight, a role that would usually have gone to an actress who looked nothing like her. Alisha Boe's character is one of the major characters on the show, hence she had a major role to play.
The rise in fame she experienced was most notable on her social media account where she had a huge spike in her followers. Since then, Boe has taken on more serious roles and has been considered for more roles in the entertainment industry. In the history of American cinema, she is the second actress of Somalian descent who has been cast in a major role.
Her other film credits include Robot Chicken (2018) where she voiced the character of Raina in episode: "No Wait, He Has a Cane," Poms (2019) where she played the character of Chloe and Yes, God, Yes (2019) as Nina.
What Is Alisha Boe's Net Worth?
Alisha Boe is on a rise and from the look of things she is going to become a major star. She currently has an estimated net worth of $1 million, which is reflective of the work that she has put into her career so far; it is clear that this will definitely grow as time goes by.