While Alex Watson is a British model and actor, he is popularly known as the younger brother of the popular Harry Potter British actress, Emma Watson. Beyond his bio, the following covers the lesser known facts about the English man.
Alex Watson's Bio
This Burberry model was reportedly born in Paris, France on the 15th of December 1992, his full name is Alexander Chris Watson. Apparently, little is known about his mother who got divorced from his father – Chris Watson – when he was still young. It is however known that he has a step-mother called Jacqueline Luesby. His father and stepmother are both Lawyers.
Alex's elder sister, Emma Watson acted as Hermione in the Harry Potter series. He also acted in the same series but as a supporting cast and so may not have been really noticed. You will find him in 2001's Harry Potter and the Sorcerer's Stone alongside star actor, Radcliffe Daniel. He also showed up in Harry Potter and the Order of the Phoenix. Also, they both featured in a Burberry Fashion commercial photo shoot for the 2010 Spring campaign.
These siblings seem to be very close and dear to each other's heart. Asides his darling sister, Alex has a half-brother and twin half-sisters named Toby, Nina and Lucy respectively.
In the pop musician Pixie Lott's music video, he also made a slight appearance, this was in 2010. Also in the same year, Alex Watson did a modelling gig for the international frame manufacturer called Silhouette. He was involved in launching the Titan Minimal Art eyewear campaign.
From what we learned, this bloke graduated from high school after a pretty tough time balancing both his studies and modelling career. It is said that his modelling career came as a huge shock to him as he never saw himself as a model. Alex's childhood dream was to become a TV Journalist like Louis Theroux. He was out shopping in Burberry for a suit to wear to a Harry Potter premiere when someone walked up to him and suggested that he meet with their Creative Director (Christopher Bailey). This meeting was successful as was his shooting that it earned him some flowers and a thank you card.
The handsome Brit is in a dating relationship with Nina Jacobs, his long-time girlfriend.
See Also: Meika Woollard Bio And Everything You Need To Know About The Model
Lesser Known Facts About Him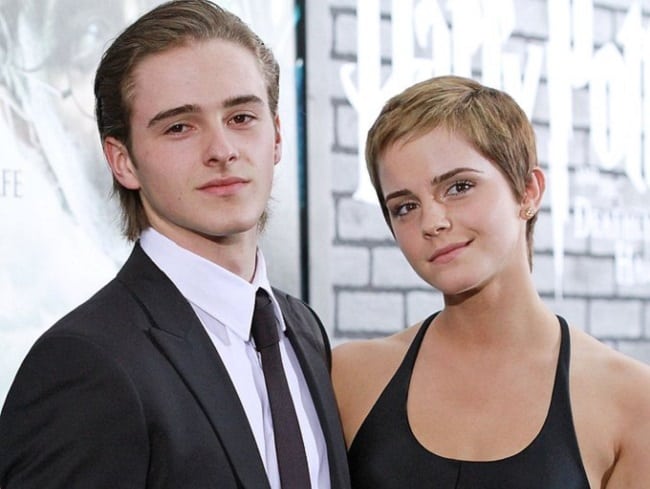 1. The actor has a penchant for saying stuff backwards and he is pretty good at it. This is one funny thing about him which also stands him out as unique.
2. For the very fact that he was born in the first half of the month of December, we know and are certain that Alex Watson is a Sagittarius.
3. He spent the early years of his life in Paris until the family moved. Currently, they reside in a flat in North London, United Kingdom.
4. Alex Watson has amazing looks with his brown hair colour and dark brown eyes. He also stands at quite a remarkable height of 5 feet 11.5 inches.
5. Emma is older than him with two years and is his immediate elder sister. This could probably be the reason behind the sibling's extreme closeness. We all have that sibling, don't we?
6. As a high school student, he was pretty exceptional with his scores being mostly A's. He was also involved in a lot of extracurricular activities which he enjoyed doing a great deal. These included being a member of both the political society and the debating society. Alex was also into sports.
7. As a teenager, he owned up about having so many shoes, too many for a male teenager. Most of them actually were gifts from people. He admitted to being a shoe lover.
8. Alex owns a degree in Philosophy and Politics from Bristol University. It seems to be that the model chose academics over modelling as he practically avoided all things show business. Even his social media platforms took a sorry fall as his fans apparently got tired of waiting for fresh gist from him and moved on. It could even be safe to assume that he did a ghost mode on social media.
9. The Brit considers himself as not a celebrity but a normal average individual. He also doesn't like hanging out with 'celebrities' even in parties and such functions. He seems really content with letting his elder sister, Emma, have all the shine of Hollywood while he moves onto other things.