Alanah Pearce is an Australian video game writer, journalist, YouTube star, editor as well as Podcaster for IGN. The young Australian is well known for shows like Button Bash, The IGN Show, and her editorial skills on Save Game. She even runs her own YouTube Channel and posts videos of games like  Grim Fandango and Until Dawn. Since 2020, Pearce has worked for American game developer Santa Monica Studio
Alanah Pearce has gained a lot of attention for being a YouTube star. In addition to that, she is a producer, writer, and a few other things. Known for her activities with Funhaus, a Rooster Teeth's video gaming and news YouTube channel, the video journalist has worked as a reviewer for Australia radio and TV stations. Alanah rose to fame as a result of her editorial works with IGN. In addition to that, she has thrived as a voice actress; lending her voice to several characters in video games and TV series.
The adept video journalist was born in Australia on the 24th of August 1993. She is the daughter of Susan who has been featured on a good number of Alanah's YouTube videos. Information regarding other members of her family is hard to come by. Alanah Pearce schooled at the Queensland University of Technology where she bagged a Bachelor of Arts degree in Mass Communication, Journalism, and Entertainment.
Profile Summary:
Full Name:Alanah Rachel Pearce
Famous for: podcaster for IGN
Gender: Female
Occupation / Profession: YouTuber, Editor, Podcaster, Streamer, Game Influencer
Education: Queensland University of Technology
Nationality: Australian
Employer: Santa Monica Studio (2020–present)
Race / Ethnicity: White
Religion: Christian
Sexual Orientation: Straight
Instagram: @charalanahzard
Twitter: @charalanahzard
YouTube: Alanah Pearce
Alanah Pearce's Fact Card
Alanah Pearce's Career Before Joining Funhaus
Prior to joining Funhaus in 2018, the YouTube personality was associated with IGN. There, she carried out editorial functions for the Toys & Culture section. She also made appearances on the half-hour nightly show about video games titled The IGN Show. Also, she served as a segment producer for eighteen episodes of the show in 2017.
It might also interest you to know that Alanah Pearce worked in other capacities for several establishments before joining the video game and entertainment website in November 2015.
From 2012 to 2014, she worked as a presenter, covering various events for GameBug, Xbox Australia, BBC, and Reel Feed. Similarly, she served Zelda Universe, GamesHQMedia, and Luna Digital as a video journalist.
What Does She Do Now?
In addition to the foregoing, Alanah featured on The Co-Operational Podcast and also served as a miscellaneous crew on the Australian breakfast TV program, Sunrise. The journalist is presently working as one of Funhaus' co-hosts and content producers. Irrespective of the fact that she only joined the establishment in 2018, Alanah Pearce has grown to become one of the main stars of the channel.
Pearce is admired for serving as the scriptwriter of Gaming Weekly, a gaming news show that covered video games, leaks, controversies, and previews. That's not all, she's a co-host of Inside Gaming, the official news channel of Rooster Teeth.
Alanah Pearce's Voice Acting Roles and YouTube Channel
As stated earlier, the video journalist has enjoyed a fine career as a voice actress. In 2019, she voiced the NPC's character in the Sci-fi video game, Gears 5. She also lent her voice to a character in the After Party video game and equally appeared as herself in the short comedy TV series, Sugar Pine 7. Apart from Sugar Pine 7, Alanah has appeared in Million Dollars, But…, Demo Disk, and RT Life.
The voice actress took a pivotal step in her career by launching a self-named YouTube channel in May 2009. But as she was seriously engaged with other things, she left the channel inactive until 2012 when she began uploading gameplay videos.
Since her first video titled "Stuff Gamers DON'T Say", she has posted more than three hundred videos on the channel. They include gaming videos like "Grim Fandango" and "Until Dawn"; as well as tutorial videos like "How to Lose Weight From Your Thighs".
YouTube Earnings and Net Worth
As of this writing, her channel has accumulated more than 300,000 subscribers. Alanah was once nominated for the Shorty Award.
The gorgeous gamer has done quite well for herself financially. She has multiple sources of income and is reportedly making as much as $470,000 annually from her YouTube channel. In view of that, it is easy to believe she's worth $1 million.
Is Alanah Pearce Married?
It was in 2015 that Alanah Pearce met Blaine Gibson who would later become her colleague at Rooster Teeth. Born in May 1990, Gibson is a Texan who graduated with a bachelor's degree in Radio, Television, and Film in 2014.
Soon after their meeting in San Francisco, the two began a very passionate and romantic relationship.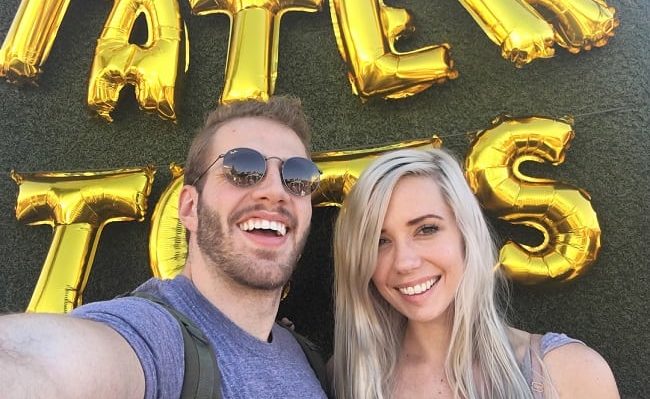 Unfortunately, they went their separate ways in September 2018 after dating for more than two years. Although the pair are no longer an item, they have remained close friends. Alanah is believed to be single and she has never been married.
The Truth About The Rape Threats She Received
Alanah became a victim of cyberbullying in 2014. Then, she received rape threats from some of her Facebook and YouTube followers who were teenagers. Although she used to ignore or block them, she was disturbed when the rate of abuse and threats escalated.
She perfectly tackled the situation by informing the mothers of the youngsters of her bitter experience with their kids, and equally sent the screenshots of the threats to them. Most of the mothers felt very bad and apologized on behalf of their children.
Quick Facts:
Alanah Pearce's Birthday
Age: 29 years old
Zodiac Sign: Leo
Date of Birth: August 22, 1993
Place of Birth: Australia
Birth City: Cairns, Queensland, Australia
Birthday: August 22nd
Alanah Pearce's Body Measurements
Height: 5 feet 10 inches
Weight: Not Known
Eye Color: Dark Brown
Hair Color: Blonde
Family and Relationships
Father (Dad): Not Known
Mother: Susan
Siblings: Not Known
Marital Status: Single
Husband or Boyfriend: Engaged to Blaine Gibson
Children: None
Alanah Pearce's Networth and Salary
Net Worth: $1 million
Salary: $297k – $470k per year from her channel.
Source of Income: Social media
Alanah Pearce's House and Cars
Place of living: Los Angeles, California.
Cars: Yet to be Updated
Other Interesting Facts:
Favorite fictional female character: Joanna Dark (Perfect Dark series)
Number 1 female role model: Her mum (Susan)
Dislikes: cats