AJ McCarron has been married to a former model and beauty queen named Katherine Webb since 2014.
As a result of his fame, a lot of people are eager to know about his private life, especially information about his wife, Katherine Webb. Katherine is a retired model, former Miss Alabama USA, and TV personality turned artist. She first became known by many people in 2012 when she emerged winner of that year's edition of Miss Alabama USA.
However, she gained national fame the following year as a result of an event that happened during the broadcast of the 2013 BCS National Championship Game. This opened many doors of opportunities for Katherine, but after being in the spotlight for a while, she realized it was not where she wanted to be.
Though Katherine now lives her life off the camera, many people are still interested in knowing her as a result of her relationship with AJ McCarron.
Who Is AJ McCarron?
Born on the 13th of September, 1990, Raymond Anthony "A. J." McCarron Jr. is the first son of Dee Dee Bonner and Tony McCarron. His parents got divorced some years after they tied the knot and afterward his mother got married again to Derek Bonner, leading to her change of name. AJ has a younger brother, Corey McCarron, who is also a football player.
The quarterback was raised in his birthplace, Mobile, Alabama, where he also began his academic journey in Our Lady of Lourdes Catholic School. He attended the school from kindergarten to fourth grade and then transferred to St. Paul's Episcopal School where he played football so well that several football programs in the Southeastern Conference recruited him. However, he chose the University of Alabama on May 3, 2008, playing college football with the Crimson Tide until 2013.
McCarron was drafted by the Cincinnati Bengals in the fifth round of the 2014 NFL Draft and played with the team for three years. He is currently playing for the Atlanta Falcon but prior to this time, he played for the Buffalo Bills, the Oakland Raiders, and the Houston Texans in addition to his draft team.
Now, let's explore his love life.
Meet McCarron's Wife, Katherine Webb
Full Name: Katherine Elizabeth Webb-McCarron
Date of Birth: April 24, 1989
Age: 34
Place of Birth: Montgomery, Alabama
Occupation: Model, Beauty Queen, and Television Personality.
Parents: Alan and Leslie Webb
Katherine Elizabeth Webb-McCarron was born to Alan and Leslie Webb on the 24th of April 1989 in Montgomery, Alabama. Growing up, she schooled in Columbus, Georgia, graduating from Northside High School in 2007. Moving forward, she attended Auburn University and graduated with a Bachelor of Science degree in Business Management and Administration in May 2011.
An interesting fact about her education is that she attended Auburn University while her husband attended the University of Alabama. This is considered interesting because both schools have had a long-standing football rivalry that dates back to 1893.
Sequel to her graduation from the university, Katherine got her first job as a model training director. She modeled for different companies and labels in a number of U.S cities, including New York, Los Angeles, Miami, and Atlanta.
Being a very beautiful lady who knew she had all it takes to be a beauty queen, Katherine registered for the Miss Georgia USA 2008 pageant in 2007, but could not go beyond the semi-finals. Undeterred, she entered Miss Alabama USA in 2012 and won. Thereafter, she also competed for the Miss USA crown but ended up among the top ten.
Following her marriage to AJ McCarron, the former beauty queen gave up modeling and the spotlight but is not in any way idle. Katherine is a talented artist, "a self-taught abstract artist…" according to her website where she puts up her beautiful paintings. Although she is busy taking care of her kids most of the time, she enjoys painting in her free time. She is one of the artists-in-residence at Buckhead Art & Co gallery in the new The Shops in Buckhead, Atlanta.
It is common knowledge that AJ McCarron is a Christian and a devout Catholic. As such, it is not surprising to know that like her husband, Katherine Webb is also a Christian. The American retired model is also frequently involved in different programs and activities in her church
How AJ McCarron and Katherine Webb Met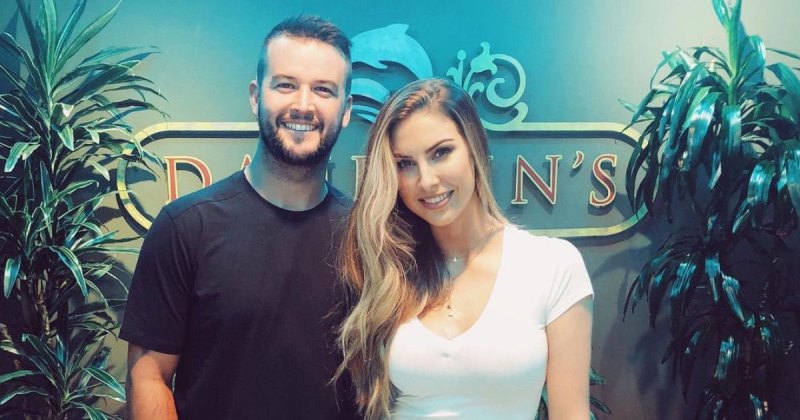 AJ McCarron and Katherine Webb met on Twitter in November 2012 after a mutual friend tagged both of them in a tweet. At that time, McCarron was still playing high school football and was not popular. As a result, Katherine had no idea who he was and his name meant very little to her, "But I thought he was cute," she told AL.com in a telephone interview in 2019.
This is how it all started:
This was followed by a couple of other beauty queens persuading McCarron to attend their show as they were certain that Webb would be happy if he did.
Out of curiosity, AJ wanted to know who the other girl they kept mentioning was. At this point, it was beginning to look like the girls were trying to set up a meeting between Katherine and McCarron, which made it seem like she (Webb) was not being honest when she said didn't know who he was.
The football star then said Katherine's fame was probably too much for him but agreed to the fact that she was pretty.
One of the girls put more pressure on AJ by telling him that Tim Tebow enjoyed hanging out with them.
On hearing that, AJ McCarron gave in to their request, with a little more pressure though.
After the tweet, McCarron started following Katherine on Twitter and she did the same. Not long after, they exchanged mobile phone numbers and began sending each other text messages.
On December 1, 2013, Webb watched McCarron on television as he played in the SEC Championship Game which Alabama won 32-28 over Georgia. At this time, the duo has become so close that even though Kathrine was a graduate of Auburn  University, she wanted Alabama to win and when it happened she tweeted:
The following weekend, Webb handed over her crown to the next Miss Alabama USA and it was there she met the football quarterback in person for the first time. "It was kind of cool," she told AL.com. "I didn't know he was coming until about an hour before. The first time I ever saw him, I was walking out on stage and he was on the front row. I was like, 'Oh Lord."'
Thereafter, the relationship progressed very quickly. Katherine Webb traveled to Tuscaloosa to witness McCarron's graduation and there, she met his family. The following weekend he traveled to Phenix City to meet her family during his short Christmas break. It was during the visit that the couple took their first photo together.
The duo's relationship was eventually reported for the first time on the 28 of December 2012, but as of then, it was nothing more of a speculation. This was prompted by several hints Webb tweeted on her Twitter account over the holiday, including the above picture. However, McCarron later confirmed that they were a pair in January 2013 when the media asked him prior to the national championship game.
"I'm definitely blessed to have that opportunity," McCarron said. "She's a great girl." The football star, nevertheless, was not comfortable with his personal life being made a public affair. According to him, "It's a little insane for me just because it's a relationship, but it's the way the media is today, I guess."
The Quarterback and Former Miss Alabama USA Got Engaged In 2014 
Just one year and a few months after AJ and Katherine started dating, he proposed to her. The proposal, which happened on Friday, March 28, 2014, took place at Coast Restaurant at The Beach Club in Gulf Shores, Ala., in the presence of other diners. Unable to hold back her excitement, Katherine announced the good news on her Twitter the same day, tweeting, "WE'RE ENGAGEDDD!!! @10AJMcCarron." By midnight, her excited fans had re-tweeted the news over 7,400 times.
WE'RE ENGAGEDDD!!! @10AJMcCarron pic.twitter.com/f1abwtv9Fo

— Katherine McCarron (@_KatherineWebb) March 29, 2014
In another snapshot, Webb showed off her beautiful large diamond ring, which, according to her, was designed by her then-husband-to-be.
He designed it himself ❤️@10AJMcCarron pic.twitter.com/YFJcZ868VC

— Katherine McCarron (@_KatherineWebb) March 29, 2014
Katherine Webb Became AJ McCarron's Wife A Few Months Later
The couple subsequently got married at United Methodist Church in Orange Beach, Alabama, on Saturday, July 12, 2014. During the event, Katherine's father, Alan, walked her down the aisle and she had ten bridesmaids among who was her sister, Laurie, and some of her friends from the modeling industry. AJ was also attended by ten groomsmen, including his brother, Corey, who served as his best man.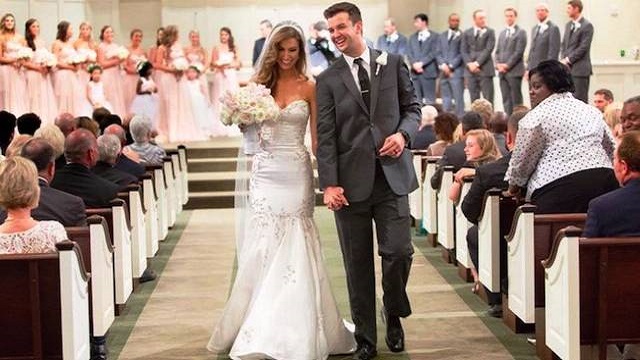 The elaborate occasion was photographed by Kim Box Photography. However, official pictures of the wedding were not revealed until September 2014 when the couple decided to let their fans see them. They were released through the entertainment show Extra.
Meanwhile, at the time they got married, AJ was less than two months old in the NFL and had not played any game for his draft team, the Cincinnati Bengals. In fact, he never played all through 2014 due to shoulder soreness and several other reasons. This means he was not popular then, probably just known by several people as one of the guys drafted into the NFL that year.
Following their marriage, Webb changed her last name to McCarron on her various social media platforms, but it has not been confirmed if the change is official yet.
It's been more than six years since AJ and Katherine walked down the aisle and they are still going strong. One of the factors that have probably contributed to the success of their marriage so far is Katherine's decision to step away from the spotlight.
Before they got married, her modeling career had just taken off, thanks to an incident that happened during the 2013 National Championship Game when commentator Brent Musburger referred to her as a "beautiful woman", turning the attention of millions of people on her thereby launching her into instant fame.
However, she knew within her that she wasn't cut out for the limelight. As a result, Webb said in her Instagram story in 2020, "I quit 'Hollywood' shortly after bc I realized I genuinely hated being 'famous' and having my personal life out there so much.."
Marking the 7th anniversary of the incident, Katherine Webb took to her Instagram story and highlighted her various media appearances and the several modeling jobs she did afterward. She then ended it with a picture of herself, her husband, and their two sons on which she wrote, "I gave it all up to marry my forever love and have my boys and I would do it all again in a heartbeat. The end."
AJ McCarron and His Wife Are Now Parents To Three Sons
AJ McCarron and Katherine Webb's marriage has produced three children, all sons. The first among the boys was born in 2016 while the youngest arrived in April 2021, and just like the couple had done with their first two pregnancies, they also told their fans that they were expecting a third child. This means that Katherine and her husband are currently holding down the fort with three little men below the age of six.
Raymond Anthony McCarron III, a.k.a. Tripp is AJ McCarron and Katherine Webb's First Son
Date of Birth: May 24, 2016
Age: 7 Years Old
The McCarron family increased by one on May 25, 2016, following the arrival of their first child into the world. The birth of the boy, who was given the nickname 'Tripp', was officially announced on Twitter by AJ at 2:51 am.
Little man is here. We have a beautiful little boy a part of our family now!! Wow is he a long one. We love you Tripp McCarron #proudparents

— AJ McCarron (@10AJMcCarron) May 25, 2016
Meanwhile, the former Miss Alabama made a "fake" pregnancy announcement on October 9, 2015, when she posted a picture of her bloated belly on Instagram and captioned it, "Guess whatttt??? I am so excited to announce that I am 20 minutes preggers with an Egg McMuffin."
Two months later, it turned out that Katherine was actually pregnant when she made the "pregnant-with-an-egg-McMuffin" joke. She eventually announced her pregnancy officially on Instagram on December 8, 2015, disclosing that she was already four months gone. Sharing the exciting news she posted a picture of her and her husband at the doctor's with the caption as seen below:
Meet Cash Carter McCarron,  Katherine Webb and AJ McCarron's Second Son 
Date of Birth: December 18, 2018
Age: 4 Years Old
Katherine Webb gave birth to her second child with AJ McCarron at 4:57 p.m. on Tuesday, the 18th of December 2018. She announced her delivery on Instagram the following day, revealing in the caption of a set of two videos from the hospital (seen above) that the new baby, Cash Carter McCarron, was born at "the exact same height and weight as his older brother…"
The beauty queen announced her second pregnancy with the then-Oakland Raiders player, AJ, in August 2018. Sharing the news on Instagram, she posted a beautiful family picture in which her baby bump could be seen as her husband carried Tripp in his arms.
"Well guys, it's getting much harder to hide the bump🤰🏻We're so excited to give Tripp a little brother to play with this coming Christmas! 👶🏻 #5monthspregnant 📷:@hsculljr," Katherine captioned the photo.
With Cash's pregnancy, the retired model revealed via Instagram, she gained 40 lbs, by the time she was eight months gone and was not able to fit into many of her clothes. Thankfully, she was able to recover her figure afterward, however, she had other troubles to deal with.
Opening up in an Instagram post in 2018 about transitioning from one to two children and not getting as much attention as she used to from her husband, the then-mom of two described the process as a "learning curve".
She revealed that Big brother Raymond, who never had to share his parent's attention with anyone, was not entirely comfortable with his baby brother coming to 'compete' with him. According to Katherine, "Tripp often feels jealous of me holding Cash, so sometimes he just crawls up and makes space for himself. Thankfully he loves his brother and hasn't acted out really."
Gunnar Cruz McCarron is AJ McCarron and Katherine Webb's Third Son
Date of Birth: April 7, 2021
Age: 2 Years Old
The McCarron team welcomed their newest teammate, another boy, on April 7, 2021. Announcing his arrival, Katherine wrote," Hey baby boy welcome to the world 😍.
Gunnar Cruz McCarron. Your brothers are so excited to meet you 👦🏻👦🏻👶🏻."
The couple announced that they were expecting their third child in October 2020 via an Instagram video from their sex reveal shared by Katherine. She captioned the video, "And God said…BAM! YOU'RE A BOY MOM 👦🏻👦🏻👶🏻." Admitting that taking care of the kids was a daunting challenge, she added, "PSA- prayers needed for my sanity 😄."
Later in the same month, Katherine debuted her growing baby bump on Instagram, complaining of gaining so much weight despite eating clean and throwing up a lot from morning sickness. "Round three has been the hardest but thankful to have a healthy pregnancy. Can't wait for your arrival in April, little man."
Katherine Webb Has A Unique Coming To Fame Story
Katherine Webb, who was AJ McCarron's girlfriend at the time (not wife), gained national attention in 2013 when she attended the BCS (Bowl Championship Series) National Championship Game between Alabama and Notre Dame. During the game, Brent Musburger, the announcer, commented on Webb's looks when the broadcast image centered on her as she was watching the game.
The announcer referred to the then-23-year-old Katherine as 'beautiful' and also called her a lovely lady. He then said to Kirk Herbstreit, who was his broadcast partner and a former quarterback at Ohio State University, "You quarterbacks get all the good-looking women." Continuing, Musburger sent a message across to youngsters in Alabama encouraging them to "start getting the football out and throw it around the backyard with Pop." His sentiments were reinforced by Kirk Herbstreit.
After the game, the pair's comments received widespread attention, making the public curious about the lady in question. As a result, Webb's Twitter account gained over 173,000 new followers overnight; these followers included star NBA player, Lebron James. "AJ McCarron girlfriend" also became one of the most searched terms on google the next day, with over 1 million searches. A video of her coverage at the game has been viewed over 3 million times on YouTube.
However, many viewed the then-73-year-old Musberger's comments as sexist and ESPN issued an apology. However, speaking with the former television news personality, Matt Lauer, the former Miss Alabama later revealed she was not offended by the announcer's comments and therefore, didn't see the need for ESPN's apology.
According to Katherine, "I think the media has been really unfair to [Musburger] … I think that if he would have said … that we were hot or sexy or made any derogatory statements like that, I think that would have been a little bit different." But since Musberger only paid her a compliment, the Alabama native said, "I don't see why any woman wouldn't be flattered by that," she added.
Post-Bowl Championship Series
Katherine Webb gained immense popularity after the BCS National Championship and as a result, a lot of opportunities to grow her career in modeling and entertainment came calling. One of such opportunities was presented to her by Donald Trump, the former President of America (who wasn't the president at the time) and owner of the Miss USA Pageant, who offered her a chance to be among the Panel judges.
However, she opted to accept an offer to cover the Super Bowl XLVII for Inside Edition. Although by her own judgment, she was not able to "do my job as well as I thought because I was hounded then", she performed well enough to convince people that she wasn't just a flash in the pan model who would fade off with time.
That's not all, Katherine Webb was also offered a spot as a contestant alongside other random celebs on Splash, a now-defunct American reality diving competition series that aired on ABC. She then appeared in a Carl's Jr. commercial and appeared as a model for Sports Illustrated's Swimsuit Issue in 2013, a memorable achievement for any model.
Thanks to her visually attractive features, Katherine became one of the known faces and poster girls in America's modeling industry. The modeling industry watchers also named her among the top models to watch out for.
Profile Summary
First Name:
Raymond
Last Name:
McCarron
Estimated Net Worth:

$5 million
Salary:
$4 million
Source of Wealth:
Football Career
Also Known As:

AJ
Sex/Gender:

Male
Profession:

NFL Football quarterback
Famous For:
Houston Texans
Colleges/Universities Attended:

The University of Alabama
Educational Qualifications:

N/A
Religion:

Christianity
Birthday & Zodiac

Age/Date of Birth:

32 years old (September 13, 1990)
Zodiac Sign:
Virgo
Birth Place:

Mobile, Alabama
Nationality:
American
Ethnicity/Race:

‎White
Country of Residence:

United States of America (USA)
Physical Attributes

Height:

6 ft 3 in (1.91 m)
Weight:

215 lb (98 kg)
Eye Colour:

Blue
Hair Color:

Brunette
Other Body Measurements:

N/A
Relationships

Marital Status:

Married
Spouse/Partner:

Katherine Webb
(m. 2014)
Family and Relatives

Father:

Tony McCarron
Mother:
Search Results
A. J. McCarron/Mother
Dee Dee Bonner
Children:

Tripp McCarron - Son
Siblings:
Corey McCarron - Brother
Other Relatives:

N/A