He might be good at his job but Adam Shulman was not really famous until he hooked-up with everybody's favorite actress Anne Hathaway. Even as an actor, producer and jewelry designer, the spotlight didn't shine much on him before Anne came along and changed all that. The story of their romance is quite impressive and many have described it as love at first sight. With the kind of love and support Adam showers on his family, their union seems to have been made in heaven, deposited here on earth and is headed to forever land. Just recently, Anne revealed that she is adding weight in preparation for a new role and Adam doesn't even mind.
On his own, Adam Shulman is a talented actor working hard to make his way to the top in the entertainment industry. He made his debut in the television series titled American Dreams and came to public notice through his part in The Dukes of Hazzard: The Beginning. Adam has also appeared in productions like Ricki and the Flash, Song One and The Gold Launch.
Who Is Adam Shulman?
Adam's date of birth is the 2nd day of April 1981. There isn't much to go by on the family and background of the actor cum producer. Nonetheless, we have been able to establish that he was born into Judaism to Jacqueline Banks his mother and Mark Shulman his father. His place of birth, Brooklyn New York, is an indication of his American nationality, but his ethnicity is white. According to the information we gathered, Adam is the only child of his parents and he grew up in his place of birth. On his educational background and academic qualifications, Adam attended Brown University and graduated with a degree in theatre in 2003.
6 Facts To Know about Anne Hathaway's Husband
1. Career
Adam's career as an actor commenced with his role as Paul O'Bannon on the set of ABC's American Dream. After that, he put in an appearance on the television show known as The West Wing. But the role that brought him to public notice was his portrayal of Deputy Enos Strate in the television film The Dukes of Hazzard: The Beginning. Since then, Adam Shulman has made several appearances in other productions including The Gold Lunch, Song One and The Loft. As a producer, he takes the credit for works like; Puzzler, The Shower and Liberations.
2. He is a Vintage Jewelry Designer
Apart from his acting career, Adam Shulman is an established jewelry designer, he established a handcrafting vintage company known as Adam Banks Design in collaboration with Heidi Nahser Fink. The company which specializes in precious stones like sapphires, rubies and diamond started the business in 2011 and has been flourishing ever since. Their collections don't come cheap, one among their treasured piece is a beautiful lightbulb-inspired necklace that goes at the price of $5000 per piece.
3. His Net Worth
Adam has accumulated a net worth of $1 million dollars, mainly from his jewelry business but also from his stint in the entertainment industry as an actor/producer. His film titled Ricki and the Flash which was produced with a budget of $30 million grossed over $41.3 million at the box office.
4. Life With Anne Hathaway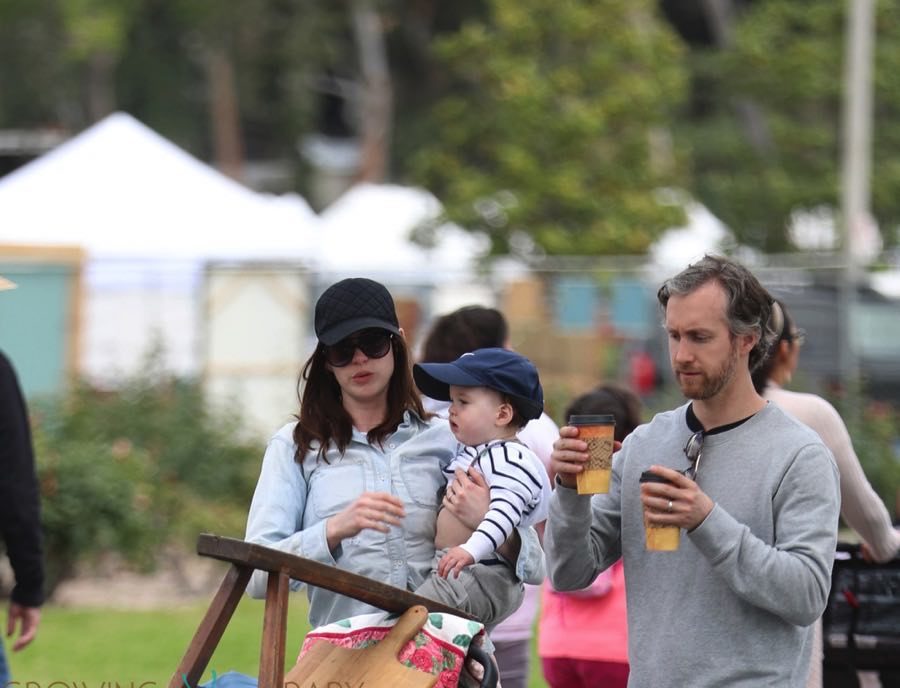 Adam Shulman was introduced to his spouse Anne Hathaway by a mutual friend at the 2008 Palms Springs Film Festival. The duo announced their engagement in November 2011 after a 3-year-long relationship. Their nuptials were accomplished in a wedding ceremony at the beach of Big Sur, California on 29th September 2012, with more than a hundred guests in attendance.
Their union has been blessed with a lovely baby boy named Jonathan Rosebanks Shulman who joined the happy family in March 2016. The family of three seems to be a closely knit one; in May 2016, they were spotted strolling in the street very close to Santa Monica with Adam proudly carrying his two-month-old baby boy on his shoulder.
See Also: Griffin Gluck Age, Height, Gay, Net Worth, Bio, Family, Other Facts
5. Philanthropy
The actor is also into philanthropy, he donated all the proceeds from his collection of handcrafted pieces of jewelry for the World of Children Award to charity.
6. Body Measurements
The husband of Anne Hathaway stands at a height of 5 feet 9.7 inches and weighs a commensurate 70 kg in body mass. Though the details of his other body measurements are not known, Adam Shulman's hair is light brown in color and he has green eyes.