Quentin Tarantino is to the American movie industry what Tom Brady and Peyton Manning are to the American football community, Lebron James and Michael Jordan to the Basketball community, and what Beyonce and Jay Z are in the music industry.
The story of his ascent to the top is one that has been described by many as "a true American story." He is a self-made man who started off as a video store clerk with an obsession for making films. Now, Quentin is one of Hollywood's legendary and most celebrated filmmakers, actors, and film programmers. Through his works, Quentin has revolutionized the American movie industry telling stories in films especially as it relates to pop culture and violence better than how anyone else can.
However, amongst his highly rated works, there still lies a few which haven't earned him as much praise as his best works. In this article, we present a list of 10 Quentin Tarantino movies ranked from best to worst. This ranking is informed by the rating these movies have on different movie review websites, their individual performances in the box office as well as their reception by audience and what critics had to say about them.
10 Quentin Tarantino Movies Rated From Best To Worst
1. Pulp Fiction (1994)
Starting off with his highly rated works, top on our list of the best Quentin Tarantino movies took us back to 1994 when Pulp Fiction, an American crime film written and directed by Quentin was released. The film starred John Travolta, Tim Roth, Samuel L. Jackson, Uma Thurman, Ving Rhames and Bruce Wills in lead roles. Pulp Fiction told the stories of criminal activities in Los Angeles during the mid-20th century as it was adapted by crime novels and pulp magazines which carried graphic details of crimes prevalent in L.A at the time.
The film intertwined the crimes in the lives of hitmen Jules Winnfield (Jackson), Vincent Vega (Travolta), Marsellus Wallace (Rhames), and his wife Mia Wallace (Thurman) among a host of other characters. Pulp Fiction was broken down into 7 narratives with 3 primary storylines which are "Prologue – The Diner," Prelude to "The Gold Watch," and "Epilogue – The Diner."
Though the film was Quentin's second project as a writer-director, he made it so well that no one was thought could have done better. The reviews of this film and its earnings in the box office are all pointers to the huge success it was. Pulp Fiction is rated 8.9/10 on IMDb and most critics agreed it was a good production just as the audience who saw it.
2. Reservoir Dogs (1992)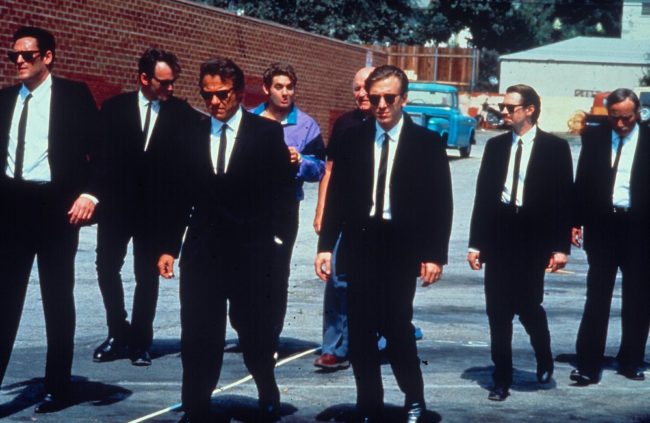 Still in the 90s, Quentin Tarantino directed another movie which till today stands out as one of his best works – Reservoir Dogs. It is an American crime film that starred Tim Roth (as Mr. Orange), Harvey Keitel (as Mr. White), Chris Penn (Eddie Cabot), Michael Madsen (Mr. Blonde), Lawrence Tierney (Joe Cabot), Edward Bunker (Mr. Blue), Steve Buscemi (Mr. Pink) and even Quentin himself (Mr. Brown) as jewelry thieves.
In Reservoir Dogs, the criminals went about their jewelry heist successfully for quite some time. But in one event that went terribly wrong which led to the death of some of their members, the surviving ones began to suspect each other for being police informants. This suspicion continued up to a point where they had a Mexican standoff. In the end, Mr. Orange confessed to Mr. White that he is indeed an undercover police officer. On hearing this, Mr. White pulled a gun at Mr. Orange and was about to shoot him in the head before the police arrived and ordered him to stand down. A gunshot was heard and it was Mr. White who slumped to the ground.
As one of the noteworthy Quentin Tarantino movies, Reservoir Dogs has good ratings on several movie review sites like IMDb where it has 8.3/10, 79 Metascore and 8.6 Audience Score on Metacritic and 91% and 94% Tomatometer and Audience Scores respectively on Rotten Tomatoes. In the box office, however, the movie wasn't much of a success.
3. Inglorious Basterds (2009)
Right from the first scene of this movie, Inglourious Basterds will keep you tightly seated to the very last scene and it is not difficult to see why. The film was made by an ensemble cast made up of Brad Pitt (Lt. Aldo Raine), Eli Roth (Sgt. Donnie Donowitz), Til Schweiger (Sgt. Hugo Stiglitz), and others who make up a team of cold-blooded killers Raine call "The Basterds." Their mission was to kill as many Nazi SS officers as possible so as to instill fear in the heart of Adolf Hitler (played by Martin Wuttke) during the Nazi occupation of France.
While The Basterds perfected how to execute this plan, they found out that Jewish cinephile – Shoshanna Dreyfus (played by Mélanie Laurent) also had the ambition of killing Nazi SS officers. They finally achieved their aim when they murdered many Nazi officers in a cinema house owned by Shoshanna when the Germans assembled to watch a propaganda film of the French premiere of "The Nation's Pride."
Inglorious Basterds was a huge success in the box office as it made $321.5 million from a production budget of $70 million. It is rated 8.3/10 on IMDb while on Rotten Tomatoes it has a Tomato Meter score of 89% and an Audience Score of 88%.
4. Jackie Brown (1997)
Jackie Brown like many other highly rated Quentin Tarantino movies is laced with the director's wit and charm which did well to set it apart as one of his best works. The film brought together arms dealer Ordell Robbie (Samuel L. Jackson), his permanently stoned girlfriend Melanie Ralston (Bridget Fonda), their friend Louis Gara (Robert De Niro), stewardess Jackie Brown (Pam Grier), bondsman Max Cherry (Robert Forster), cop Mark Dargus (Michael Bowen), and ATF agent Ray Nicolette (Michael Keaton).
They were all in pursuit of half a million dollars which clearly put their lives in the line. As they went about getting the money, they all began to wonder who's getting played and who will probably end up getting the money. In the end, Jackie got the money and decided to leave for Marid, Spain for a better life.
The movie earned $74.7 million from its $12 million production budget. On Rotten Tomatoes, it has a Tomato Meter rating of 82% and 85% Audience Score. On Metacritic, Jackie Brown has a Metascore of 64 and a User Score of 8.4. With a rating of 7.5/10 on IMDb, it comes in meritoriously as one of the best Quentin Tarantino movies you should see if you haven't already.
5. Django Unchained (2012)
With Jamie Foxx as Django Freeman and Christoph Waltz as Dr. King Schultz both in lead roles, Quentin as director was able to tell the story of Django, a slave who fell out of favor with his masters and came face-to-face with a German bounty hunter – Dr. King Schultz.
As fate would have it, both men soon proved valuable to each other with Django being in a position to help Schultz find the murderous Brittle brothers who he was originally in pursuit of while Schult promised to free Django after he helps him get hold of the brothers dead or alive. Later on and in addition to his freedom, Django also got to free his family from the hands of a Mississippi plantation owner with the help of Schultz.
With a Box office revenue of $425.4 million from a production budget of $100 million, there is no better way to prove that the making of Django Unchained was a worthwhile investment. On IMDb, the film is rated 8.4/10 while on Rotten Tomatoes, it has a Tomatometer score of 86% and an Audience Score of 91%.
6. Kill Bill: Volume 1 (2003), Volume 2 (2004)
What will you get when a team of assassins turn against one of their own who chose to lead a different life? Violence! More violence was unleashed after a couple of years when the ex-assassin came back to hunt down her former colleagues who destroyed her life when she thought she had begun a new life.
Kill Bill: Vol. 1 and Vol. 2 were directed by Quentin Tarantino with Uma Thurman as the Bride/Black Mamba, David Carradine as Bill in lead roles and a host of others. The Bride and Bill were formerly lovers and also members of the Deadly Viper Assassination Squad. When the Black Mamba discovered that she was pregnant for Bill, she opted out of the squad in search of a better life. However, the very people she was working with struck and destroyed everything she thought the future held for her as well as left her in a coma that lasted 4 years. When she woke up, the Black Mamba, true to her name and nature began a revenge mission that saw her take down many members of the assassin squad.
In the box office, both films made $333.1 million from a combined production budget of $60 million. Their rating on several movie review sites as well as critics' opinions on them, made them stand out as one of the best Quentin Tarantino movies.
7. The Hateful Eight (2015)
The Hateful Eight is another work of Quentin which told the story of bounty hunters. This time around, they were on their way to the town of Red Rock in Wyoming. Major Marquis Warren (played by Samuel L. Jackson) is one of the bounty hunters who is seen transporting 3 dead bodies to the town. He joined another bounty hunter named John Ruth (played by Kurt Russell) and his fugitive named Daisy Dmergue (played by Jennifer Jason Leigh) on their stagecoach driven by O.B. Jackson (played by James Parks). When the travelers got to Minnie's Haberdashery, a stagecoach stopover on a mountain pass, they found out that the house has been taken over by 4 strange faces who actually murdered the owners of the Minnie and were on a mission to free Daisy.
Their intrigues for survival or escape (as the case may be) and the suspense it came with are what made this movie a commendable work of Quentin Tarantino. It earned $155.8 million from a production budget of $44–54 million. On IMDb, the film is rated 7.8/10 while on Rotten Tomatoes, it has a Tomatometer score of 74% and an Audience Score of 76%.
8. The Golden Girls (1988)
Quentin Tarantino starred in this American sitcom in 1988 in Season 4, episode: "Sophia's Wedding: Part 1." He impersonated legendary American singer and actor Elvis Presley.
The situational comedy was created by Susan Haris. It began airing on September 1985 on NBC and ran a course of 26 seasons and several episodes before it stopped on May 9, 1992. The sitcom focused on the lives of 4 women (aged at least 50 years) and what goes on in their lives daily. Such topics can be on adultery, homosexuality, diseases, death, etc.
The women are each different from the other in terms of their personalities. Dorothy Petrillo Zbornak (Beatrice Arthur) is the most intelligent of all, Rose Lindstrom Nylund (Betty White) can be annoying, mean and insulting sometimes, Blanche Elizabeth Hollingsworth Devereaux (Rue McClanahan) is noted for being sex-starved while Sophia Spirelli Petrillo Weinstock (Estelle Getty) is overly sarcastic of all 4 women.
The sitcom was quite popular while it was running and that explains why it has a rating of 7.9/10 with many critics praising its unique setting.
9. Not Quite Hollywood: The Wild, Untold Story of Ozploitation! (2008)
Not Quite Hollywood: The Wild, Untold Story of Ozploitation! is an Australian documentary film written and directed by Mart Hartley. The film had an ensemble of casts which include Quentin Tarantino, George Lazenby, John Seale, and many other actors, directors, screenwriters, and producers who were interviewed by Mark about the Australian New Wave low budget cinema's in the '70s and '80s.
On Rotten Tomatoes, Not Quite Hollywood: The Wild, Untold Story of Ozploitation! was rated 95% with an audience score of 80%. On IMDb, it has 7.7/10. With this rating, it lags behind many other Quentin Tarantino's movies
Read Also: 15 Andrei Arlovski Movies and TV Shows Rated From Best To Worst
10. Death Proof (2007)
Death Proof or Quentin Tarantino's Death Proof does not come in as one of the highly-rated Quentin Tarantino movies. It found its place in this listing as one of his worst film credits. The film is an American exploitation horror film that he wrote and starred in alongside other casts.
Kurt Russell acting as Stuntman Mike McKay is a psychopath who stalked voluptuous women at different times choosing to kill them with his vintage automobile which has been modified to be death proof. His victims in the film were Arlene/Butterfly (played by Vanessa Ferlito), Abernathy Ross (played by Rosario Dawson), Shanna (played by Jordan Ladd) and Pam (played by Rose McGowan). In the end, however, his last victims beat him to death.
In the box office, Death Proof was only able to make $700, 000 in excess of its $30 million production budget. It is rated 7.0/10 on IMDb and on RottenTomatoes, it has a 63% Tomatometer score and 72% Audience score.