While the female models tend to get the most attention, male models definitely have no trouble holding their own. In fact, the hottest male Instagram models have become just as newsworthy as their female counterparts, and there's a good reason for this; these models come across as newer products of evolution to correct the errors of the first man. This certainly explains all the attention they're getting. Below is a list of the top ten hottest male Instagram models in the world right now.
Nick's full name is Nicholas Kevin Stanley Yunge-Bateman and he was born on November 18, 1986. He is a Canadian actor and model. Some of his works include The Listener as Ian Furmanek in a 2013 episode of the television series. He also appeared in 2018's The Matchmaker's Playbook where he played Ian Hunter.
He began modeling professionally after graduating from college and has worked with the likes of Abercrombie & Fitch. He has a height of 6 feet 4 inches (1.93m).
Just as his name suggests, he was quite lucky to have been discovered at the age of 10. Smith was born on June 4, 1998. He signed his first modeling contract at age 12. Over the years, he has worked with Versace for campaign covers as well for Vogue. He stands at a height of 6 feet 2 inches.
Aside from modeling, Lucky Blue Smith is also recognized as an actor and musician. He played the role of Bridger Jenkins in the 2016 film Love Everlasting. He formed "The Atomics" a surf rock band with his sisters – Pyper America, Starlie Cheyenne, and Daisy Clementine.
You might have probably heard the name being associated with Kendall Jenner, as it was reported that the two were passionately making out in a world of their own at the CFDA Awards after-party. Anwar Hadid is also the younger brother of Gigi and Bella Hadid.
Anwar was born on June 22 in the year 1999. He has modeled with his sisters at Tommy Hilfiger show at London Fashion Week SS18 in addition to starring on the covers of Vogue Arabia, Teen Vogue, Moschino, and Hugo Boss. Standing at 6 feet tall, Anwar is every bit a handsome guy and should definitely make the list of any hottest male Instagram models.
Neels is both a model and a disc jockey. He was born on September 2nd, 1998 in Phoneix Arizona. He has grown quite a huge following on social media all thanks to his good looks.
He started off with modeling working in his sister's modeling agency. His modeling career has seen him model for the likes of Vanity Teen Magazine, American Eagle, Dolce & Gabbana and Maybelline. He stands at a height of 1.73 m.
Luka has got a style of his own with which he merits a mention on the list of hottest male Instagram models. Luka has worked for brands like Adidas, Dolce & Gabbana, Yeezy, and Champion.
He was born on November 26, 1997, and prior to his Instagram stardom, Luka often spent time playing video games and skating around with friends. Nevertheless, being born to a fashion stylist mother and a fashion designer father, it wasn't long till he too began making a living from fashion. Luka Sabbat stands at a height of 1.78 m.
Terence Telle has been getting it right in his modeling career ever since he started. He is French and stands at 6 feet 2 inches with his brown hair and eye color. His birth details haven't been obtained at this time.
Terrence is signed with Le Management Stockholm, Success Models Paris, Uno Models Barcelona d'management group Milan, Le Management Copenhagen and Storm Management London and has been on the runway for fashion powerhouses like Emporio Armani, Versace, Giorgio Armani, Michael Bastian, Issey Miyake, and Trina Turk among others.
Jon is a Spanish model and has worked as an actor as well. His full name is Jon Kortajarena Redruello and he was born on 19 May 1985. He stands 1.88 m (6 ft 2 in) tall.
Like many other models, Kortajarena was discovered at a fashion show where an agent noticed him and talked about giving him an opportunity to model. He accepted and had his first professional work at the Cibeles fashion show for Roberto Verino. Since then, he has gone to advertise for Zara, Giorgio Armani, Diesel, and many others. Jon Kortajarena was ranked 8th in Forbes 2009 World's 10 Most Successful Male Models.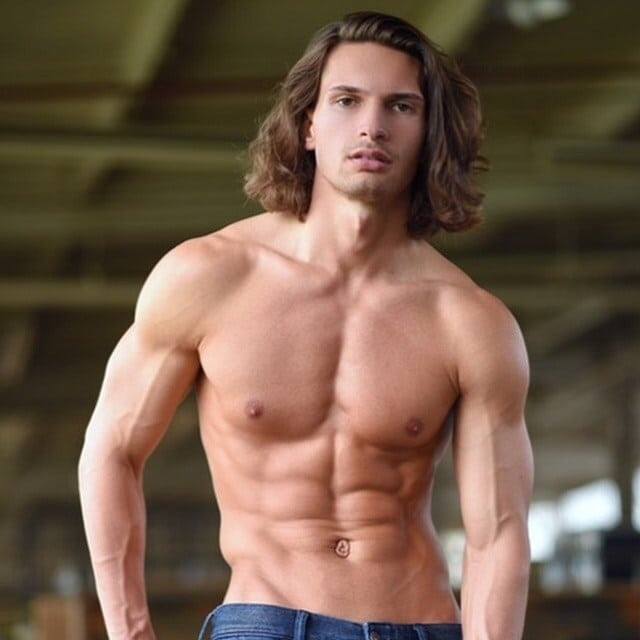 Matthew Noszka rightfully belongs on this list of 10 hottest Instagram male models being that he was discovered primarily as on the platform. He was born on October 27, 1992, and was raised in Pittsburgh, Pennsylvania before he relocated to New York City. However, Noszka is of Polish, Irish, Swedish and Spanish descent.
Mathew's modeling big break began when a photo he posted on Instagram caught the attention of Luke Simone; a representative of Wilhelmina Models agency in New York City. A couple of interactions followed with Simone asking to see more of his photos, following this, he landed his first gig with Nike. Matthew Noszka stands at a height of 6 feet 2 inches or 1.88 m.
For Reece King, it has been a jolly ride to the top without much sweating. Reece was born Reece Anthony King on November 1, 1994, in Essex, England. Like most people today, he was primarily concerned with his education but not until a photo he posted on Instagram wearing a LAMODA septum ring went viral after LAMODA heard of it and reposted the photo.
He soon became an internet sensation and started getting modeling offers from reputable brands. He got signed with Supa Model Management and has since then worked for brands like John Elliott, GAP, and Forever 21. He stands at a height of 5 feet 9 inches or 1.82 m.
Though he is one of the youngest on this list of hottest male Instagram models, he definitely merits his spot here. He was born on December 2, 1996, in Gold Coast, Australia and has grown to be 6 feet 2 inches or 1.88 m tall.
Jordan garnered attention for having a resemblance with a Ken Doll and has since then made it to the top of the fashion industry. His young career has seen him being named The World's Hottest Male Model at the coveted New York Fashion Week Media Awards in addition to having been on the cover of Vogue with Bella Hadid. Watch out for him at the top!